So for the first time in my 25 years I'm actually not single on Valentine's Day. Normally all those 'Love is in the air' email marketing campaigns would go straight in the junk folder, but I've actually been opening them this year, and unsurprisingly found some hefty heteronormativity and cisnormativity. I really think stands in the way of romance. Know what my dad got for my mum a few years back? He hunted down a (not widely available back then) black and white non-edited version of Night of the Living Dead on DVD. She loved that film when it came out, and hated the way it'd been edited over the years. You wouldn't find that on an ASOS 'Gifts for her' edit.
Maybe you're in a new relationship or suck at buying gifts, but don't want to fall back on chocolate and roses or aftershave, because you're a bit more enlightened. Or maybe you'd just like to enjoy a bit of seasonal romance without the ludicrous obsession with giving men basic skincare products as gifts. Good for you! Hope this helps.
I love this idea, it's seriously romantic. There are lots of options for printing too – posters, books, mini pictures, framed photos. You could even get creative and take photos that will surprise your partner – cutting out big letters that spell out a message and taking Instagram photos of them perhaps? These in the photo are £8.99, and prices vary depending on what you want.
2. A recipe book to use together
Books are great gifts because you can write a thoughtful (romantic) message inside it. Buy a cookbook and write inside the front cover how one of the recipes reminded you of them, or that meal they ordered on your first date. Write how you can't wait to spend Saturday afternoons making food with them, or why that particular book jumped out at you as the perfect one for them. The one featured above is written by a couple and contains lots of stuff about their adorable daughter, so maybe don't buy this one for them if its early days and you don't want to freak them out…
Following on from 2, if you've already got an amateur chef in your life, get them a cool, funky, different thing to go in their kitchen. I absolutely love this spice rack, a great option for people who use lots of spices, buy them in big bags and spend forever trying to keep them organised and clean whilst avoiding spills. This spice rack is ridiculously adorable, and unique. Just like your other half, I'm sure.
4. Body Oil
You know why. I featured this REN Moroccan Rose Otto Body Oil because I genuinely think it's the best body oil around, but it's fairly pricey. If you're on a budget but still want to enjoy sexy massage time with your partner, Lush make amazing massage bars for around £5 that will go down a treat. My favourite is Tender is the Night, which has the most incredible jasmine scent.
Whether your partner is living in a pokey flat in East London with 4 other people, or owns their own house somewhere grown up (or you live together!), I think Valentine's Day is a great excuse to buy them something for their home that you, or they would never buy normally. A nice shower curtain is something I always think would be lovely to have, but a completely unnecessary extravagance when Primark sells them for a fiver. ModCloth has some adorable ones, and Society6 also has a wide selection. Here are a few other examples of housey stuff that would make great, completely unnecceary but thoughtful gifts: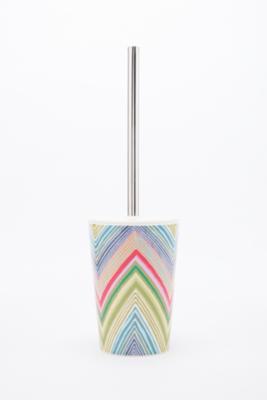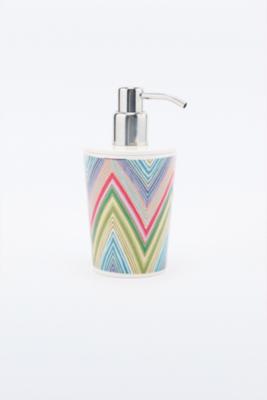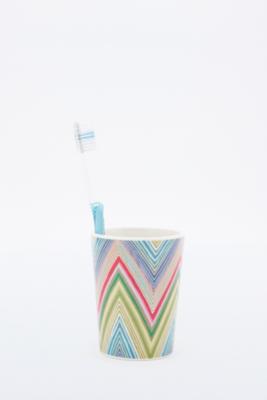 I love this matching toilet brush, soap dispenser and toothbrush holder. Can you imagine how much this would brighten up a morning?
Really really nice bedding. This is from Zara Home, and the quality of their bedding is amazing. There's something wonderful about seeing your partner all sleepy in the morning against the backdrop of some gorgeous, quality sheets. OK, to be fair that's probably the least important benefit of your partner having nice bedding, but it's the only one I'm going to put on my blog. I love these others too, but of course it entirely depends on your partner's taste:
Garden Bed Linen
  Leaves Bed Linen
Printed Bed Linen
An added bonus to all these lovely homely things is that if you end up living together they'll bring it with them…crafty aren't I?
Maybe there's something your partner has mentioned wanting to try. Well, do it. Tell them you're taking them Valentine's shopping and head to the nearest sex shop to get them the vibrator they've been lusting after forever. Some sexy clothes for you or them? Erotic literature? A whip? I'm not suggesting you slam a bottle of lube on the table for your first anal session because they said they'd like to try it, unless that's the kind of relationship you have. Work out what they'd like and how they'd like to get it, (e.g. surprise vs non-surprise) and treat them to something that's going to make you both feel amazing. The photo is of a toy called the TRANSFORMER, which is the world's first gender neutral sex toy. That's pretty cool.
7. Take them on a thoughtful date
Do they like plants? Science? History? Art? Botanical gardens, museums, stately homes, art galleries… take them somewhere interesting and walk around holding their hand before having a cup of tea in the cafe/gift shop while taking a few selfies of your cute selves. This is my boyfriend at Kew Gardens. I highly recommend that as a romantic destination because you're both guaranteed to feel great in the fresh air, and it's ridiculously beautiful. But museums and art galleries are usually free, so that's a good option if you're completely broke come the 14th.
If you have absolutely no money to spend then some extra time and effort needs to be put in. Make a Spotify playlist of all their favourites, or a mixture of yours and theirs, or even just of songs that remind you of them. That's sure to brighten their morning commute. Make the playlist, give it a special name and share it with them over Spotify with a sweet message. A millennial mix-tape. There's a reason it used to work so well in the 80s! Of course if you don't have Spotify (er, what?) then there are lots of other places you can make a playlist. I just don't know what any of them are because I barely even use iTunes any more let along anything else…
9. Headphones

What I'm trying to communicate here is that if your partner doesn't already have a good pair of headphones, and you can afford it, GET THEM SOME. Headphones are the perfect gift, and will go great with that nice little Spotify playlist you put together for them. One thing I'll point out though, as someone with big, easily messed up hair, I can't use my Plattans when I wear it down. If your partner has long or large hair, or they spend a massive amount of time styling trying to tame it, perhaps lean towards a pair of earphones.
10. A handmade card
When I was a kid, if I wanted to give my parents anything for mother or father's day, it had to be a handmade card. These were purely consumerist holidays, they told me, and I wasn't to ask the other parent for money to buy them something, or indeed use my own pocket money. If I wanted to show my love and appreciation for them, I had to make them a card. I think my magnum opus was probably a mother's day when I was about 8 or 9. I made a long thin cone out of paper and stuck it upside down to the front of the card on which I'd written something like 'Love you mummy'. I went out into the garden, picked some small flowers and tucked them into the cone so it looked like a mini vase. She was pretty impressed with me that year. Anyway, buying a Valentine's Day card from any big store, no matter how hard Urban Outfitters try to make it look like an indy project off Etsy, is buying into mass produced consumerism too. If you possibly can, make them a card. And if you can't, get it from an independent artist.
Something you might notice about this list is that none of these things are specific Valentines Day gifts. Seriously, people, use the day as a way of showing the person you love that you love them. But buy into it only in so far as you say 'I may hate the premise of Valentine's Day but I sure as hell love you so here's something that doesn't have any hearts on it, wasn't mass produced and sold at a vast markup, and won't get thrown away the second we move house because it's literally just a piece of trash'. Quite apart from making us better humans and being better at relationships, it's better for the planet!