If 2020 has proven anything, it's that a connection to the natural world is essential for our wellbeing. From the the satisfaction of weeding, the hard work of ground prep and the tenderness and attentiveness required when raising seedlings, gardening is such a perfectly human activity, allowing us to make a connection to the earth that benefits us in ways I don't even have words for. If someone in your life has discovered a love for plants and growing things during the pandemic, this guide will help you find gifts that'll delight, encourage and inspire them, even if you aren't much of a green thumb yourself!
The gift of essential reading
Every gardener should have a copy of the RHS Encyclopedia of Plants & Flowers and the Encyclopedia of Gardening. These reference books are incredibly helpful resources, providing more or less all of the information you need for a successful garden. However, they can be quite overwhelming for beginners, and personally I think they're more helpful for established gardeners rather than people who are just starting out, so keep reading for the best suggestions for beginners!
Gardening crash course books
The Principles of Horticulture is a textbook for Horticulture students, and basically teaches everything a beginner could ever need to know about plants and gardening. It's very easy to read, and sure, it's not a pretty gift, but it's undoubtedly incredibly useful for a new gardener. If your loved one is a bit more of a 'chomping at the bit' type person and just wants to dive in head first (are they me?) then the RHS Complete Gardener's Manual, will do the trick. It isn't as in-depth, but it's gonna take them where they need to go. And if its a small space they're working in (I personally love this book as I'm a balcony gardener) then the RHS Little Book of Small Space Gardening is perfect. If they're keen on growing veg, yes, it's yet another RHS recommendation, the RHS Grow Your Own Veg Year Planner!
The pretty coffee table books
To provide a bit of wow factor on Christmas morning, you can't do better than this series of beautiful books from the RHS – Botany for Gardeners, Practical Latin for Gardeners, Genealogy for Gardeners and Secrets of Great Botanists. Although they all have a similar design, they focus on vastly different areas of our understanding of plants – science, latin, plant families and history, all geared towards the knowledge, priorities and interests of hobby and professional gardeners. These are the perfect gift for the lover of knowledge, the theorist, the person who wants to know everything.
Seeds, seeds, seeds
Raising plants from seed is one of the most satisfying aspects of gardening in my opinion. Planting something that someone has already grown is a joy, but planting your own babies, seeing them grow from a speck of dust into a stunning plant? It's incredible. And a nicely gift-wrapped parcel of seeds is an absolute delight – it's so exciting to see all that potential! Of course it can be tricky to choose seeds for someone else, but if you know that they have a favourite flower, specific interest, or a vegetable they've always wanted to grow, see if it's available as a seed, otherwise, think about what colours they like, or buy them a selection of seeds like some of the wonderful Kew Gardens Seeds Series pictured above, from Thompson & Morgan.
If you're really unsure on what kind of seeds, then go for one of Thompson & Morgan's kits. They have a huge variety of options including an Exotic Fruit Growing Kit, Blooming Bouquet Growing Kit, Rainbow Veg Growing Kit, Hot Chilli and Sweet Pepper Growing Kit, a Sweet Pea Growing Kit, and more. Check out the whole list here.
A flower press to preserve their achievements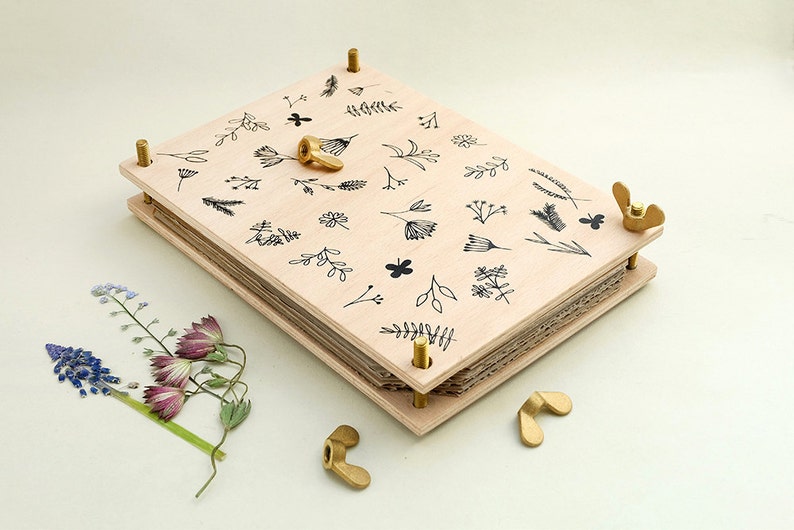 I mentioned this flower press in my Cottagecore Gift Guide too, but I think it's a really lovely way to celebrate someone's newfound passion for gardening – pressing flowers that you've grown yourself is one of the most wholesome activities imaginable, and it will allow your loved one to keep beautiful mementoes of their gardening journey.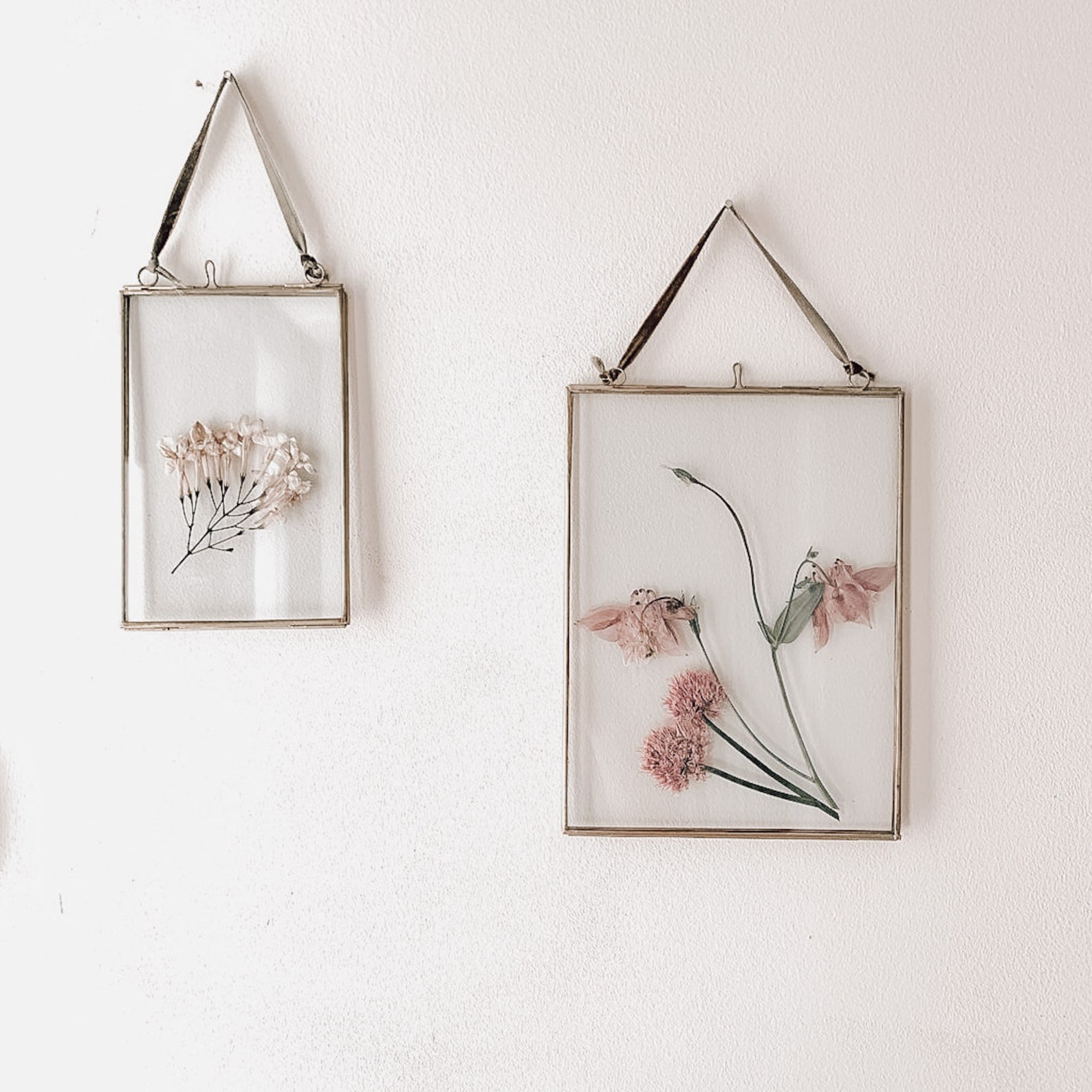 You could also pair it with one of these clear glass hanging frames, so they can proudly display their homegrown pressed flowers! Get one here.
A cold frame to protect their plants
Ok I know this is a bit of a leap in the price-point stakes – but if the gardener in your life is someone you'd like to splash some cash on, this is the perfect thing to get for them. A cold frame is a place to put tender and half-hardy plants to 'overwinter'. It protects them from frost and is essential for several different plants, who come from places with milder weather. It also allows a gardener to get certain flowers earlier in the year – lots of seeds that would need to be sown outside after the last frost can be started off indoors during the frosty season, and then once germinated, transferred to a cold frame until its safe to put them outside, meaning they will be ready to flower much sooner than if the plants were sown outside after the last frost. A cold frame is a brilliant investment in your gardener, and this one is small enough that it won't intimidate a newbie, but big enough that they can grow whatever they like. Plus, at £125 it's actually very reasonably priced for a structure like this. Get it here.
Personalised garden tools for a functional bit of beauty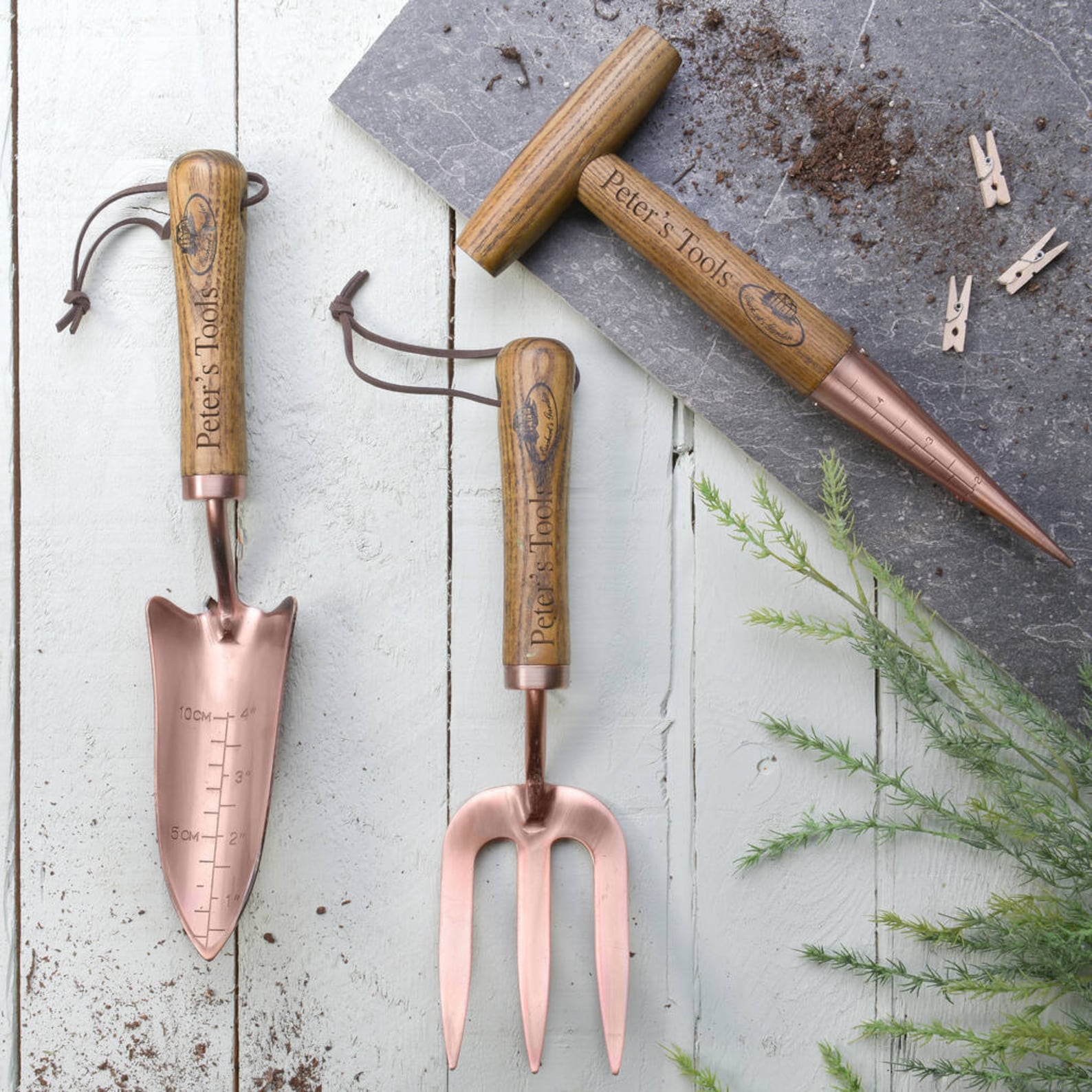 I can't think of a sweeter gift to be honest – these personalised garden tools are tasteful, simple, practical, and beautiful. Get them here.
I hope this helps inspire you!