I'm one of those annoying people who is super picky but wants EVERYTHING. Every time I go looking for something I want to buy I'll get a very specific idea in my mind of what I want, search for hours for that one exact thing, and then wonder why I can't find it. This habit was thrown into a particularly strong light when I was looking for a wax melt burner – I ordered some wax melts and they were sitting in the cupboard for weeks before I actually managed to find a suitable vessel to burn them in! I trawled every corner of the internet, and after I'd found my perfect one, I realised it had actually been really difficult to find a wax burner that matched my style.While there was nothing wrong with the ones that turned up on the Google shopping page, they just didn't suit my home. I just knew that since my wax burner was going to be sitting on my coffee table, if I didn't make the effort to get it right the first time, I'd just end up buying another one (and another one after that probably).
ANYWAY, all that to say I came across a TONNE of gorgeous wax melt and oil burners while I was on my hunt for the perfect one for me – and I thought I'd share them all here, to hopefully make the search easier for other people – so I hope you find one you love! I've split them into four sections – handmade, luxe-look, niche designs and electric – because those made the most sense to me, but (obviously) I encourage you to look through them all. Happy burning – and remember to protect your surfaces and never leave a burner unattended!
(Please note – affiliate links are marked with an asterisk*)
Handmade Perfection
These beautiful pieces of art are made by skilled artisans – they're a little more expensive but that's to be expected, and I think they're worth every penny to own a unique piece that someone has poured their love, skill and passion into.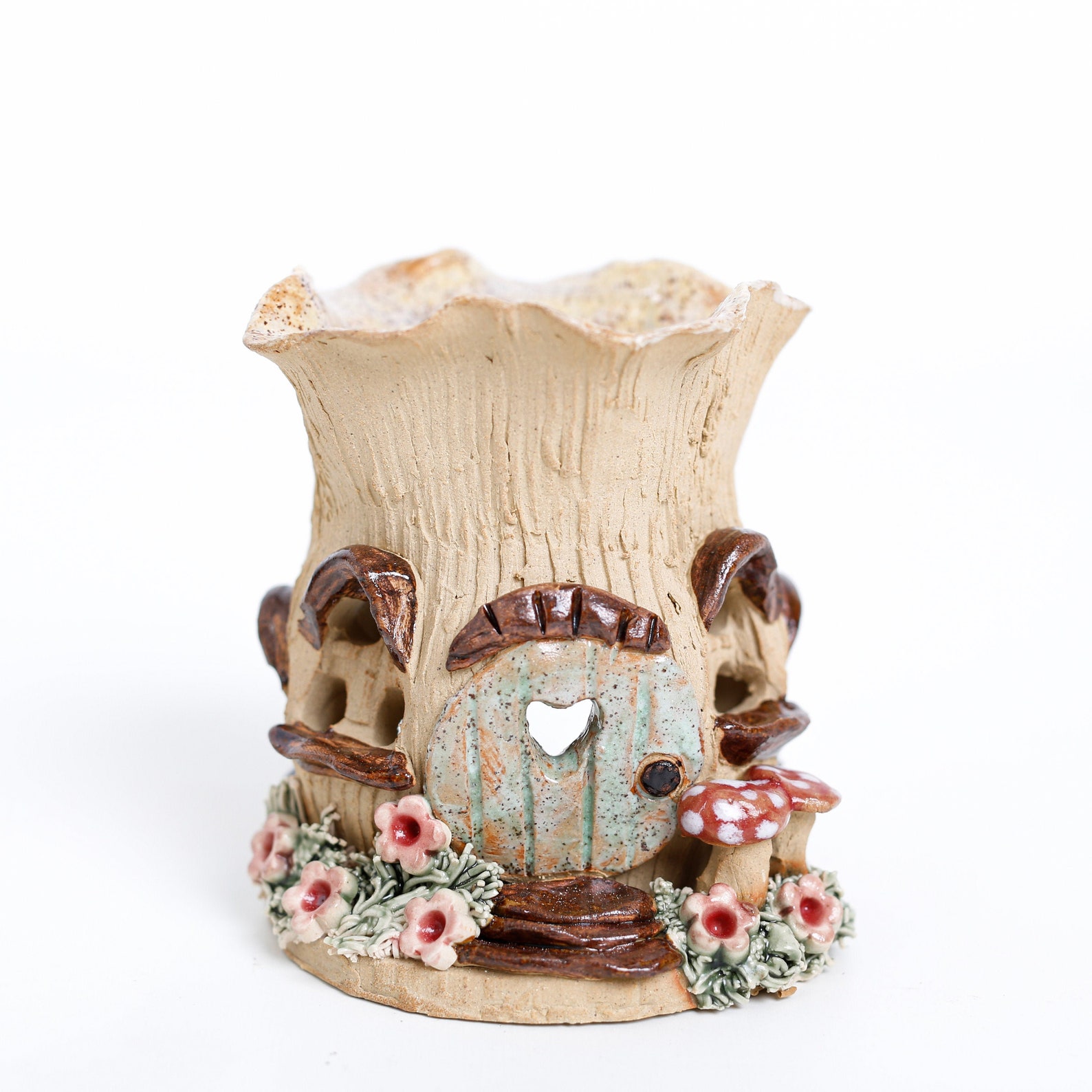 I couldn't believe my eyes when I saw this stunning burner. It makes me want to move into a crooked witchy cottage, with dried herbs hanging from the rafters and a black cat sleeping on a sunny windowsill. You'd definitely have to make wax melts using flowers you grew yourself to show this wonderful creation the respect it deserves! Or not – anyway, I am completely in love with this Fairy House Ceramic Wax Melt Burner* by the incredibly talented potter Sallyamoss* and think it's an utter bargain at £27. Click here* to buy!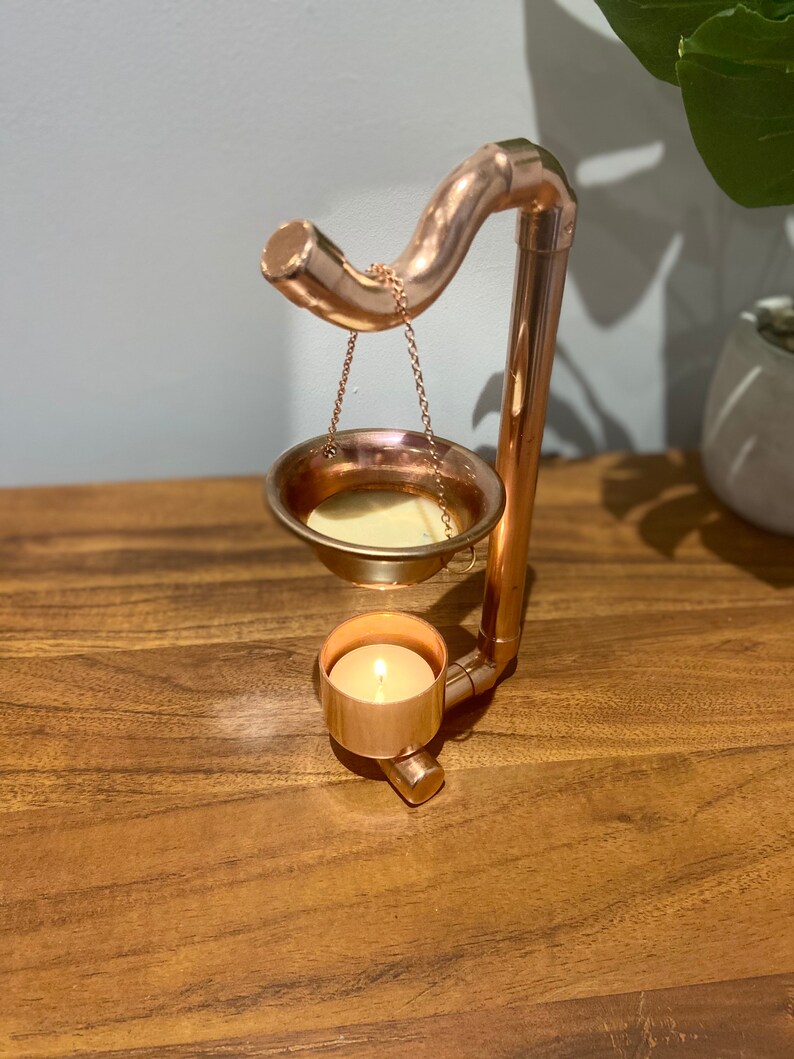 If you've ever been to my house you will have had to sit through me enthusiastically telling you about my coffee table. I made it by hand with my dad before he died, and it's a beautiful maple plank tabletop finished with clear matt varnish, and copper pipe frame and legs, which I cut and soldered myself. It is such a proud achievement, and it also reminds me of my dad whenever I look at it. So when I saw this burner I squeaked a little – can you imagine how perfectly this copper pipe burner would look on a coffee table with copper pipe legs?! I actually came across this one after I had already ordered the one I have now so I had to resist, but I won't lie, part of me is hoping my own wax burner meets with an *ahem* terrible accident so I can buy this Handmade Copper Pipe Burner* made by rcoppercreations* as a replacement. It costs £29, and you can click here* to buy!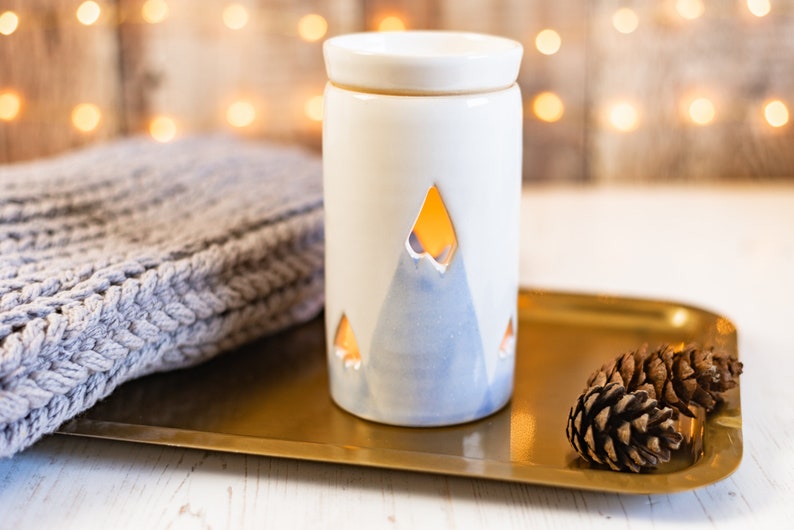 I think this is such a cute yet sleek burner. It's the perfect way to add a touch of wintertime cosiness and comfort without interrupting the flow of a stylish, modern home. I adore the design – when a candle is lit inside it looks like snow-capped mountains glowing in the sunset light, isn't that lovely? It's quite tall and slim, so it'll fit in really nicely with a pre-existing display on a coffee table (or wherever you plan to keep yours). And you can choose from two colours for your mountains, plus you have an option to add some of The Candle Bothy's amazing selection of vegan wax melts (click here* to check out the scents) which makes this a great choice for a gift too! The price starts at £34 and increases if you buy the wax melts, and you can click here* to buy!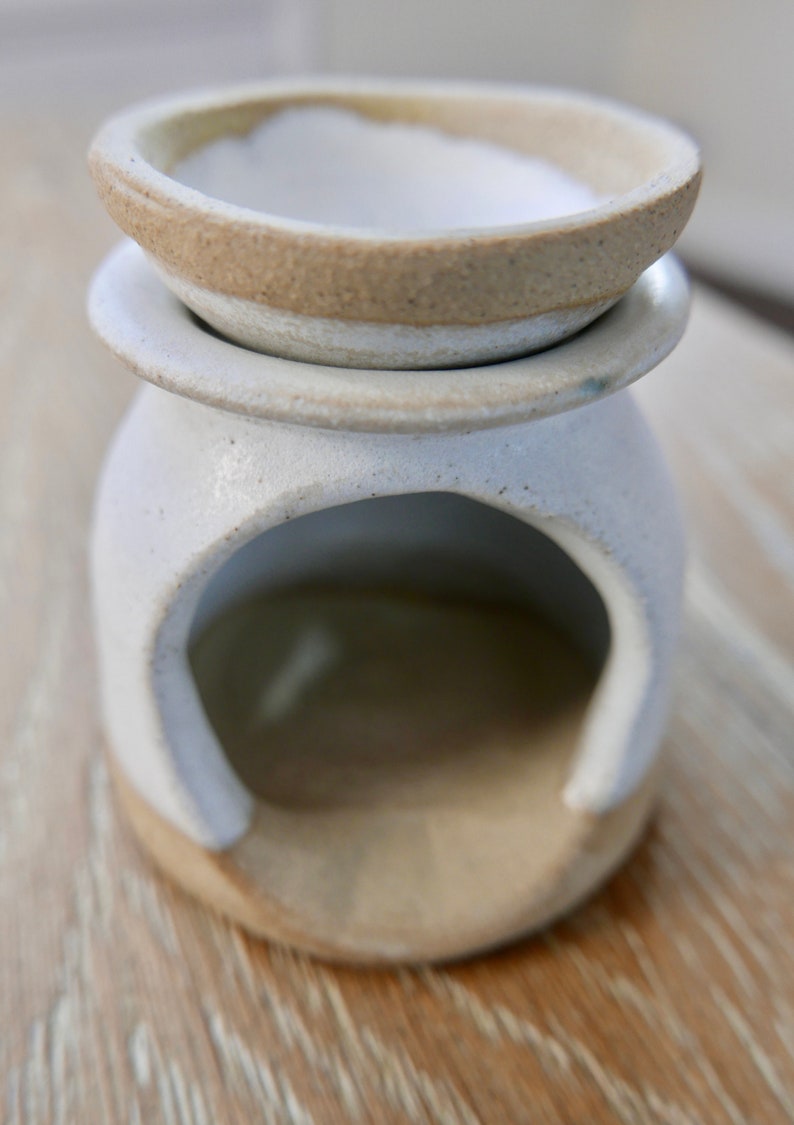 I'm super impressed by this one because I was in a potter's shop a couple of months ago, and she was struggling so much to make her own burners from hand-thrown pottery. She was finding it impossible to stop the hole from warping in the kiln. Because of that, when I came across this gorgeous piece by mother and daughter team Emandmceramics* I was amazed! It's absolutely beautiful isn't it? And takes such skill! This beautiful burner is ideal for anyone who love to incorporate organic shapes and natural finishes in their home. Click here* to buy it for £17.99! They also have a fully glazed version with a beautiful speckled finish that you can check out here*.
Elegantly Luxurious
This section features beautiful, refined options for stylish home dwellers. Not to confuse you, but these enchanting burners aren't super expensive, so don't lose hope – the aesthetic concept of 'luxe' doesn't always come with a premium price point.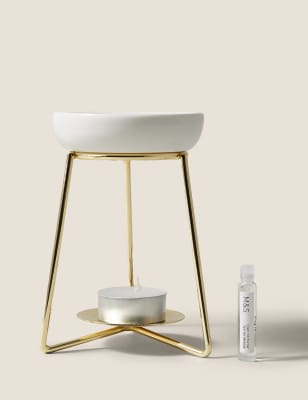 I'm really impressed with the clean lines and understated elegance of this burner by marks and sparks. The brass holder adds such a lovely, subtle gleam to your home setup, while the ceramic dish will be easy to clean and take care of. This burner also comes with a small vial of calmingly scented oil so you can get going right away (assuming you didn't do what I did and buy a million melts before you even started shopping for a burner). Click here* to buy for £12.50!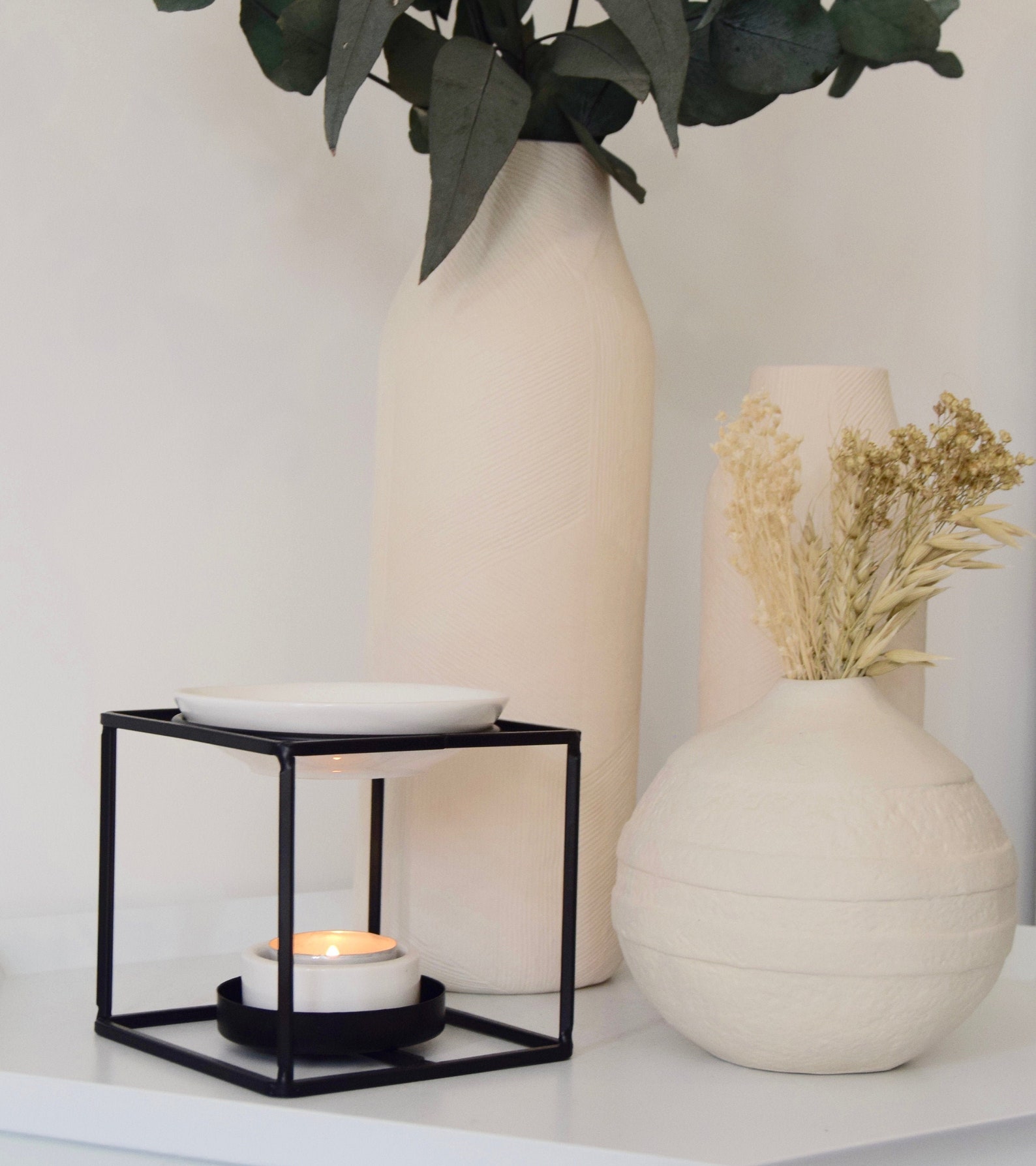 This is another simple, subtle yet impactful design that I absolutely love. I can think of so many different home styles where this would fit in perfectly! It has a kind of satisfying look to it I think – a sweet little cube with a strong, elegant identity. Another one where I'm not-so-secretly wishing I had a need for a second burner, sigh. Click here* to buy for £24.99!
This is such a beautiful piece of homeware-meets-art from John Lewis. I love the subtle intricate design and understated stylishness. Do note however, that this is only for oils, not wax. I honestly don't know what the difference is – my guess is it's either to do with cleaning it, or something to do with the heat required for the waxes and oils being different. If you prefer oils, this is an absolutely gorgeous choice for something a little unusual, but undeniably elegant. Click here to buy for £20.
If elegant is what you like, I don't think you can do better than this stunning oil burner from John Lewis. Polished brass and white concrete create such a clean, refined aesthetic. Again this one is only for oils but I think I know why this time – cleaning wax off brass is quite difficult, I have a brass dish myself and it needs a lot of attention to get the wax deposits off! It's best to stick to the manufacturer's instructions, especially when it involves heating stuff up. Anyway, that aside, this burner would look incredibly sleek in so many different room styles – it'll perfectly match a minimal aesthetic, but will easily hold its own in a busier room. Click here to buy for £18.
My own oil burner is from Oliver Bonas, so I really rate them. Sadly mine is no longer available otherwise it would be taking centre stage in this blog post, but this is a wonderful alternative! I love the fun palm leaf design and the millennial pink – this would look amazing in any super-cool, personality-filled space. Again this is oils only, again I'm not sure why, but still, I encourage you to follow the instructions. Click here to buy for £15.50 – it's on sale!
A Little Niche
This probably sounds like a weird section to have, but one thing I found while I was trawling the internet was that there were loads of amazing, but very specific, burner designs out there – ones that would absolutely make the right person's day if they happened upon them at the right time. I absolutely love the creativity and variety of the burner world. So here are some of the best!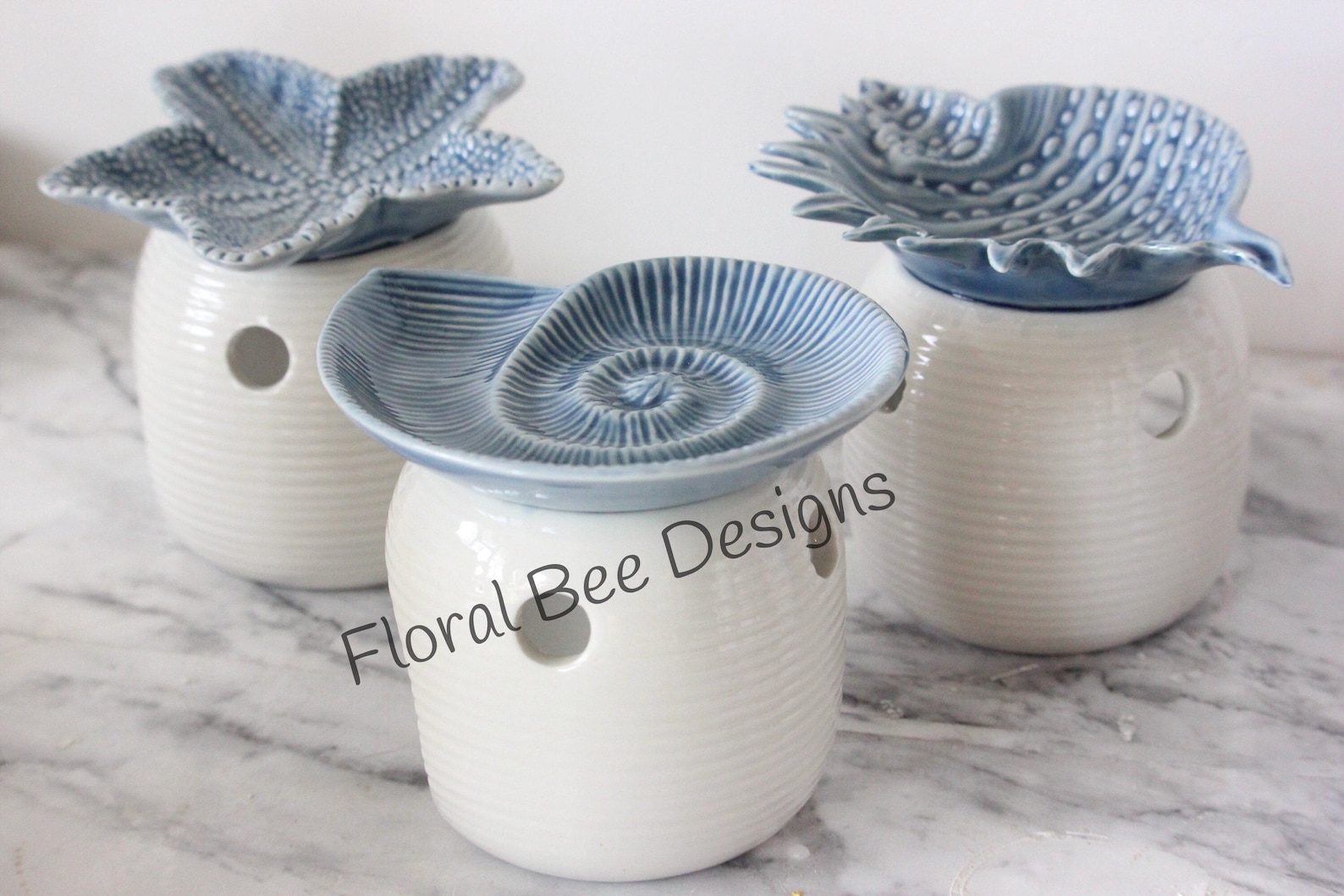 Whoever started the trend for nautical themed bathrooms is a very clever person indeed. Those spaces always feel so clean, serene and comfortable. And if you know someone who has a bathroom like that – you know this is the perfect gift, right? Or if you're lucky enough to live by the sea and thus perhaps have other rooms with a nautical theme, this is definitely the one for you. Click here* to buy for £12.99!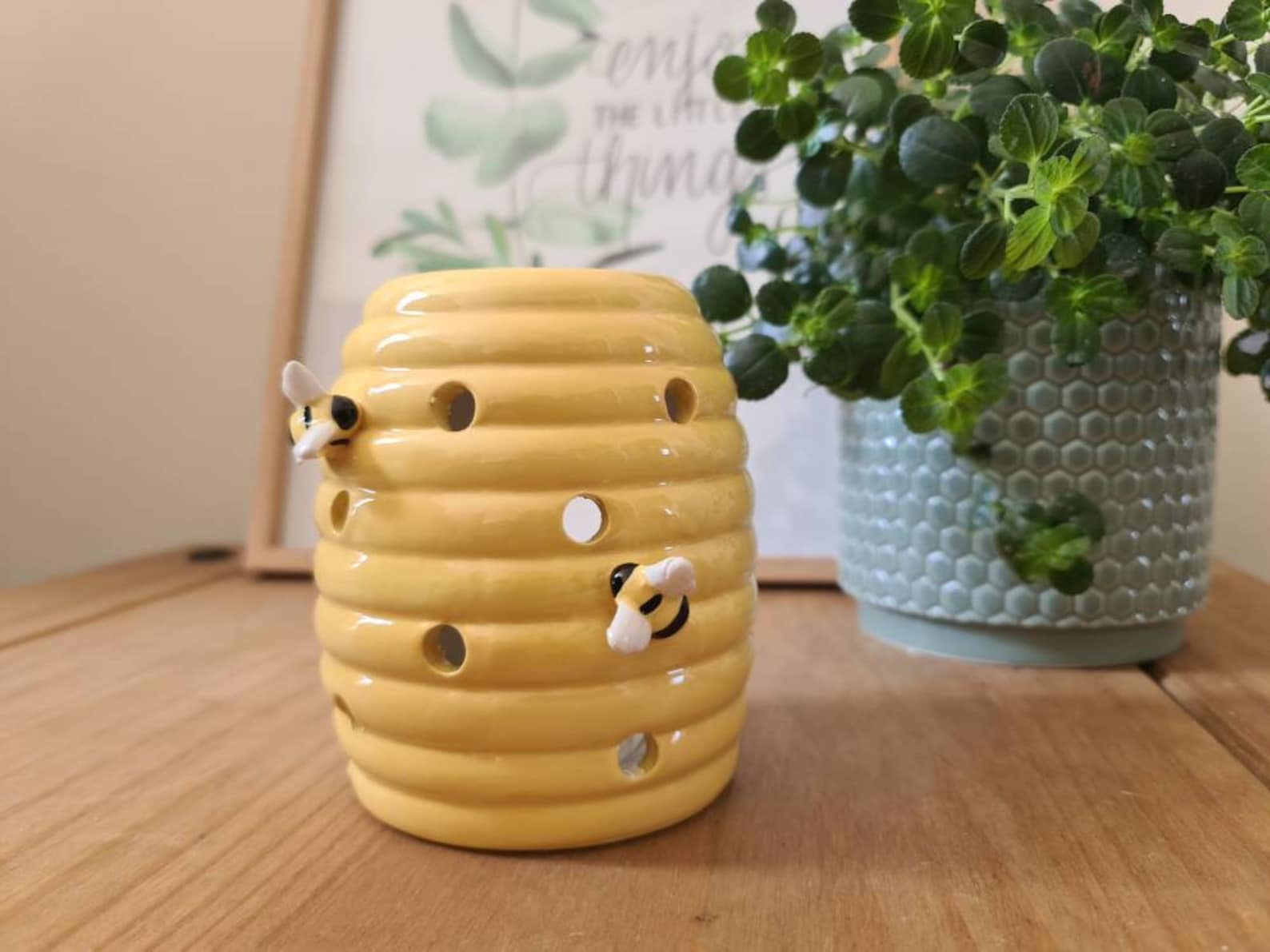 Isn't this the cutest thing ever?! Anyone who loves bees, lives in the countryside or has curated a country-chic look in their home will adore this. I can just picture how lovely it would look with the glow from the candle shimmering through the little holes, making it look like a busy, buzzing beehive. Simply adorable. Click here* to buy for £12!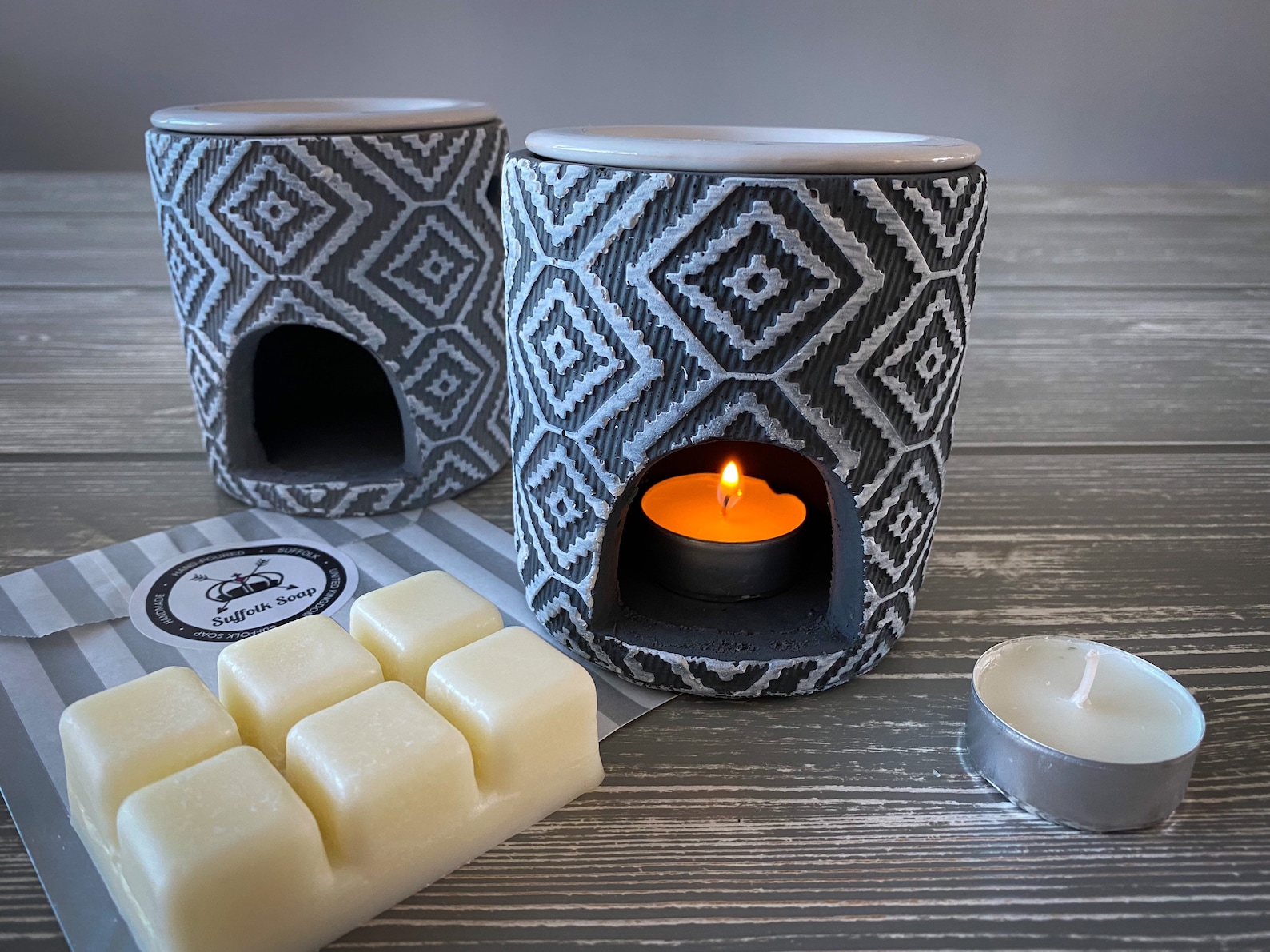 I admire people who know how to make a grey colour scheme work in a room. I think if I tried that it would end up looking like the life had been sucked out of everything, but I've seen some amazingly dynamic looking grey spaces, and I think this is the perfect option for those rooms. The pattern provides interest while the bold contrast between the greys carries the theme wonderfully. Click here* to buy for £7.99!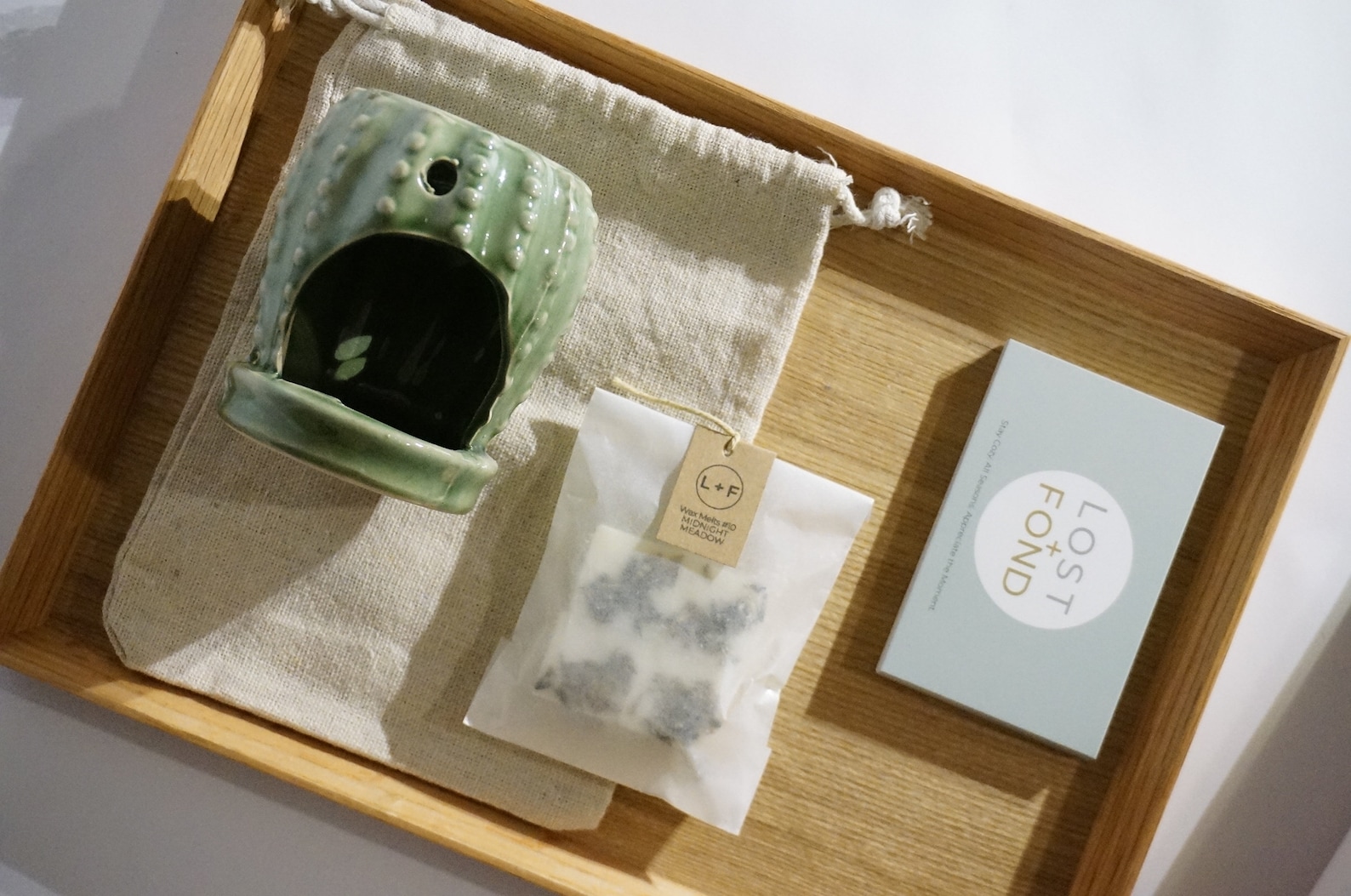 Anyone with houseplants, frankly, NEEDS this in their life. If I had even a single iota of space left then I would have had to buy this one, to sit alongside my real cacti – but unfortunately several of my plants have recently produced babies and I have literally nowhere to put anything else. This burner is so cute I can't even come up with anything to say about it, I'm just obsessed. If you're a plant lover yourself I'd wager you feel the same way, and if you're looking for a gift for a plant parent? This is your sign – you've found the perfect present. The lovely shop that sells this set is called Lost+Fond and they have a gorgeous selection of wax melts to go along with the burner – I'm particularly tempted by neroli + rosewood. Click here* to buy – the price starts at £9!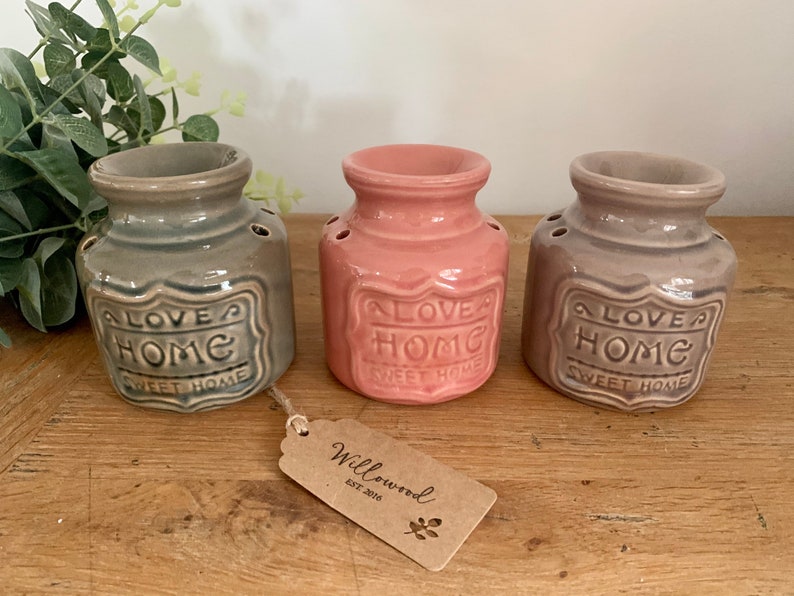 The ultimate burner for any rustic country abode (or anyone who wants to foster that eclectic, cosy feeling in a more modern home). I love how sweet these are, and being fully glazed means they're easy to keep clean too! Click here* to buy for £7.50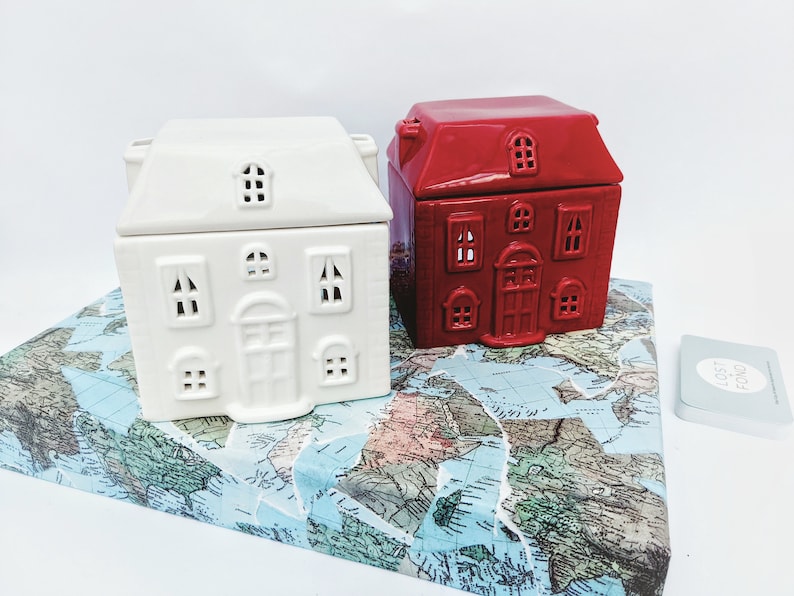 Another beautiful item sold by Lost+Fond, this burner would be the perfect present for someone who's just bought their first home, especially if the house looks similar to the design of the burner. It's got such a cosy aesthetic, and I think the red one would be absolutely perfect for a festive display on a coffee table. Click here* to buy for £16, and you get to choose a gorgeous wax melt too.
Electric Burners
This is a type of burner I didn't really pay much mind to initially, because I live for candlelight. But I still came across a few really lovely ones on my searches, so decided to share!
I am obsessed with Honey Bee Home's amazing range of homeware – if you follow me on instagram you'll have seen me raving about my stunning velvet pumpkins, which I got from them last month. I love this design of plug-in burner, and the soft, low light it emits is perfect for anyone who – like me – prefers to live a candlelight-bathed life. Click here to buy for £12.50!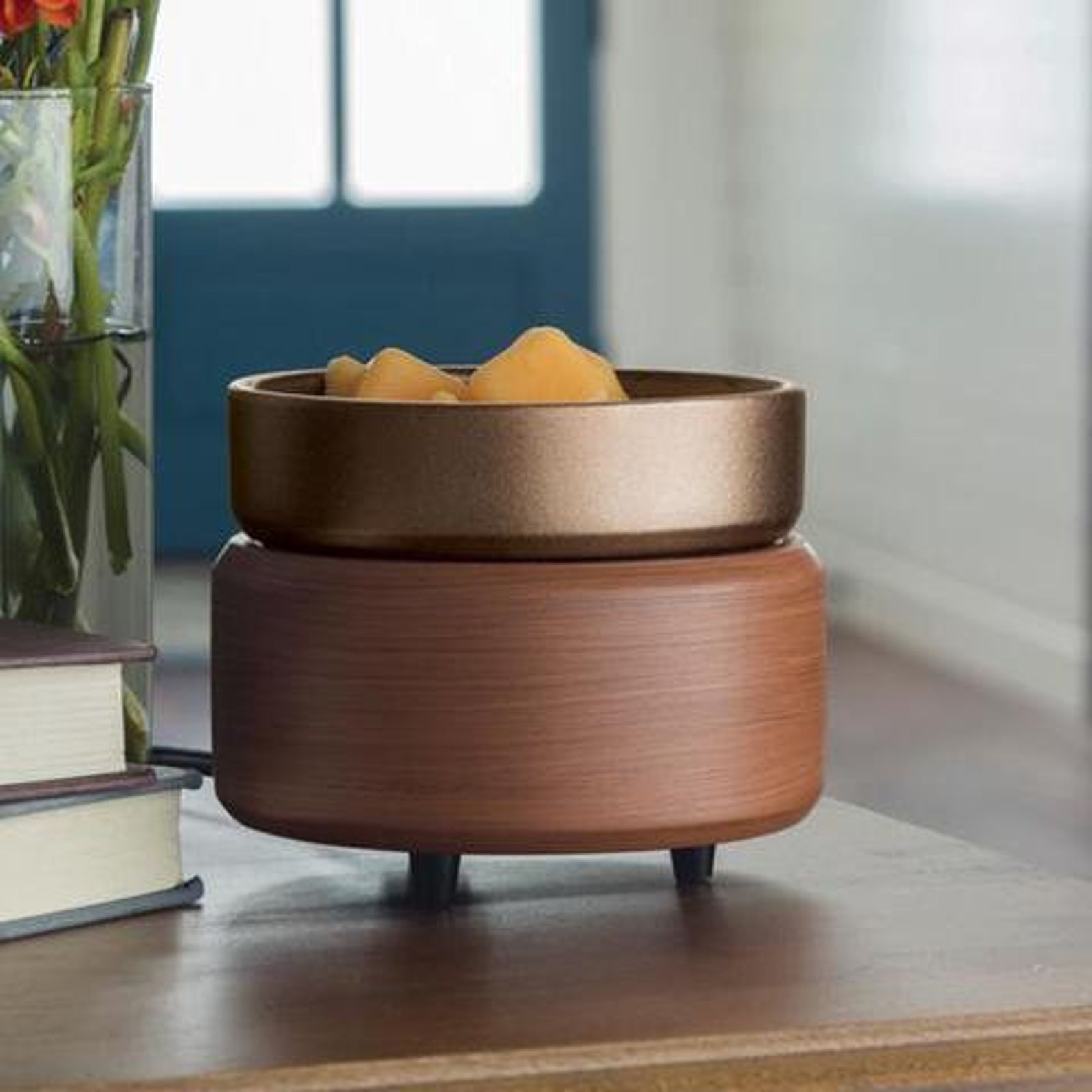 I love how unassuming yet beautiful this burner is! It would look so, so cute on a side table, and its small size means it's ideal for cramped or cosy spaces. I love the sophisticated, refined look of the dark wood and metal together. Click here* to buy for £26.99.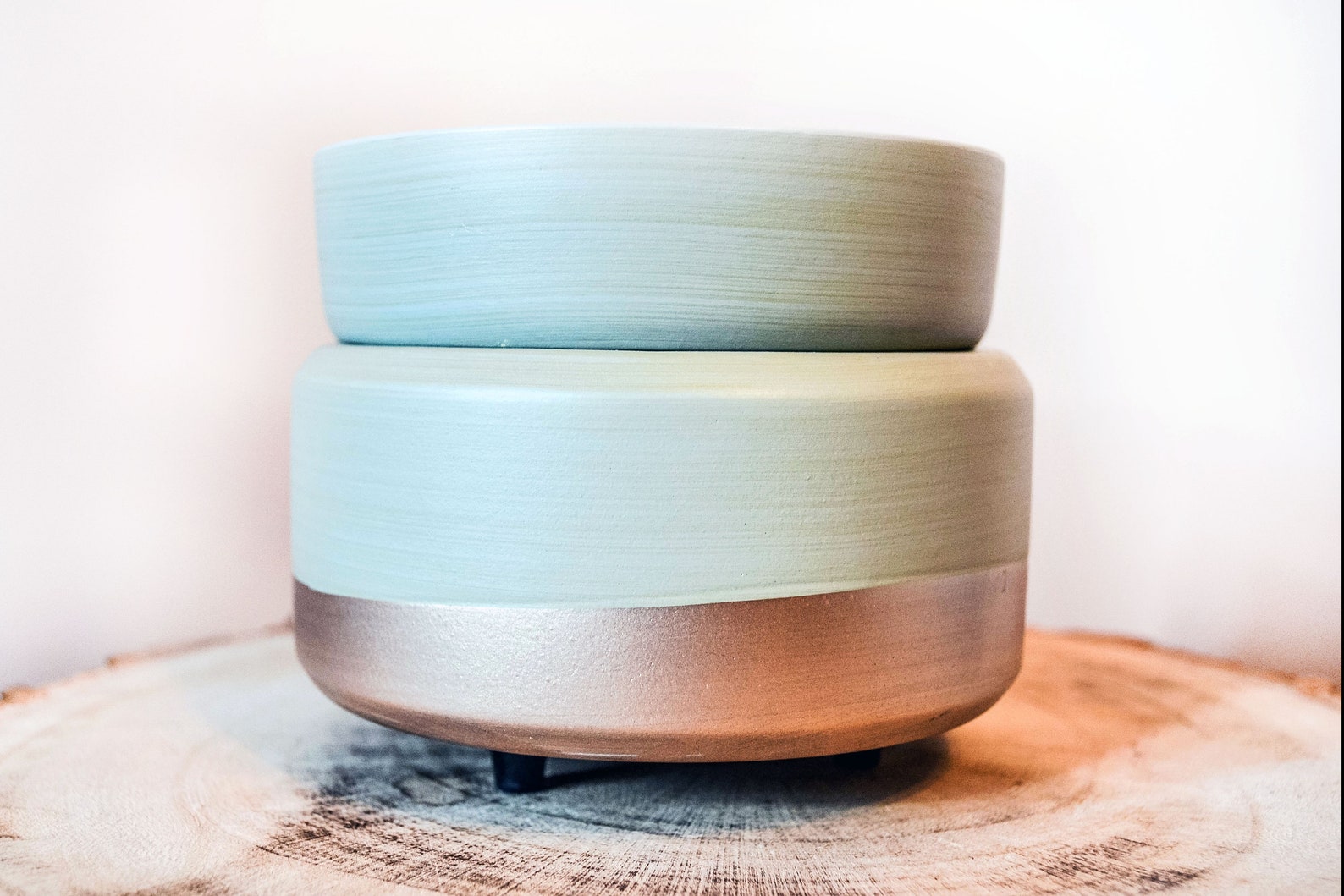 The same compact shape as the walnut one above, but a totally different aesthetic, this little burner has a sweeter, prettier appearance – I think it would look lovely on a dressing table. Click here* to buy for £26.99!
I hope you've found some inspiration in this post! Thanks so much for reading.